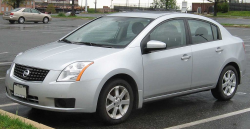 — Nissan Sentra master cylinder recalls may be investigated by the government if a petitioner gets their way after a petition was filed to look into previous recalls of 2007-2008 Nissan Sentra cars.
The National Highway Traffic Safety Administration (NHTSA) says it will evaluate the petition and decide if an investigation is needed to verify two master cylinder recalls from years ago did the job in repairing the Sentras.
Safety regulators say about 40,000 cars could be affected by Bosch brake master cylinders that may leak brake fluid, a problem that was supposed to be fixed during recalls in 2008 and 2009.
Nissan recalled 170,000 model year 2007-2008 Sentra cars in August 2008 after drivers complained about the Bosch master cylinders. Nissan blamed the problem on internal seals in the master cylinders with gaps in the grooves of the seals.
The gaps allowed brake fluid to slowly leak from the master cylinders into the brake booster assemblies, activating the warning lights. To fix the problem Nissan told its dealerships to replace the master cylinders if brake fluid was leaking.
Then in December 2009, Nissan recalled 10,500 model year 2008 Sentras equipped with Bosch master cylinders to fix problems with brake fluid leaks. Dealers were told to replace the master cylinder brake boosters.
A few owners have complained the recalls didn't fix the problems because those recalls didn't include enough cars.
One 2008 Nissan Sentra owner said the car lost engine power and slowed down before the driver saw heavy black smoke and flames shooting from the engine compartment. Within three minutes the Sentra was a ball of flames and an investigation into the fire determined it came from the area of the master cylinder.
NHTSA says it will decide if there is any validity to the defect petition or if the Nissan Sentra recalls were good enough to keep drivers safe.
CarComplaints.com will update our website with NHTSA's decision.
Read brake complaints about the 2007 Nissan Sentra and 2008 Nissan Sentra.