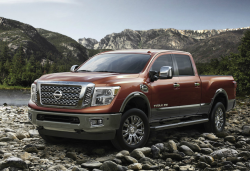 — Nissan is recalling more than 12,000 Titan Diesel XD trucks that can run out of gas because the gas gauges and distance-to-empty meters can be wrong.
The 2016 Nissan Titan Diesel XD trucks, manufactured August 7, 2015, to September 1, 2016, have fuel pressure problems that cause the wacky gauge and meter readings.
In May 2016, Nissan received a report involving a Nissan Titan Diesel XD truck that had problems starting due to low fuel pressure. Nissan investigated and concluded the problem was caused because technicians needed more training.
The automaker says during the assembly process of 2016 Nissan Titan Diesel XD trucks, plant technicians may not have removed the temporary fuel tank breather tube cap and may not have correctly affixed the tube to the bed rail. This will prevent the fuel tank from receiving enough ventilation through the fuel tank breather tube and possibly cause the tube to deform.
In July the automaker learned of two more reports, which caused a change in the assembly process at the plant. Then August arrived as did three more complaints about trucks having fuel pressure problems to the point the engines died.
Nissan escalated the investigation and identified 21 trucks that had problems out of 1,230 that were inspected. Dealers were told to check the Titan trucks on the sales lots and 46 more trucks were identified as having fuel pressure problems.
Nissan dealers will inspect the fuel tank breather tubes for proper routing and the absence of temporary fuel caps to determine if the trucks are affected. The fuel tank, fuel sending unit and fuel tank breather tube will be replaced as necessary.
Nissan Titan Diesel XD owners with questions should call 800-647-7261.
CarComplaints.com has owner-reported complaints about 2016 Nissan Titan trucks and other model years of Nissan Titan trucks.