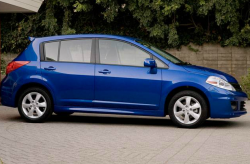 — The National Highway Traffic Safety Administration (NHTSA) has opened an investigation of 155,000 model year 2012 Nissan Versa cars after reports of side airbags suddenly deploying simply from closing the doors.
Owners complain the driver or passenger curtain and seat-mounted airbags deployed when shutting the front doors, with the airbags deploying on the same side as the door that was shut.
NHTSA hasn't said much about the investigation, but a 2012 Nissan Versa owner says the side airbags deployed as the passenger exited the car and shut the door, while a separate report says the side airbags deployed as the person got into the car and shut the door.
Another 2012 Nissan Versa owner told CarComplaints.com the passenger-side door wasn't closed completely so they made sure the door was shut and the side airbags flew out of the seat and from the front and rear window areas.
The owner says they took the Versa to a dealership and asked for a loaner car while the dealer kept the Versa. By the time everything was completed nearly a month later, Nissan said the airbag system worked as intended and the owner would have to pay $335 in rental car fees.
Safety regulators say early warning data submitted by Nissan shows the same airbag problems as Versa owners have complained about, so NHTSA needs to find out what is causing the faulty airbag deployments.
CarComplaints.com will update our website with details of the investigation.