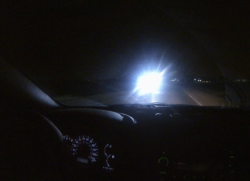 — If you're planning on buying a new small SUV and plan to see well when driving at night, you might want to bring a flashlight. According to a study from the Insurance Institute for Highway Safety (IIHS), not one small SUV out of 21 earned a 'good' headlight rating.
IIHS tested 21 model year 2016-2017 small SUVs that use 47 different headlight combinations, including high-intensity discharge (HID), LED lights and curve-adaptive systems which swivel in the direction of steering. Out of possible ratings of "good," "acceptable," "marginal" and "poor," none earned a good rating and only four earned acceptable ratings.
Poor ratings were handed out for headlights on 12 of the 21 small SUVs.
To test the headlights, IIHS uses a special device to measure how far headlights project as the vehicle is traveling straight, a sharp left curve, taking a sharp right curve, a gradual left curve and a gradual right curve. The amount of glare was also taken into consideration and any SUV with a lot of glare cannot qualify for a rating higher than "marginal."
Engineers say automakers may be coming up with the newest advanced safety technology, but manufacturers seem to forget the importance of basic features such as headlights.
The best-performing headlights in the small SUV group belong to the Mazda CX-3 available on its Grand Touring model. They are curve-adaptive LED lights with optional high beam assist. IIHS says the high beams perform well on most approaches and the low beams perform well on right curves and on the straightaway and sharp left curve. However, the headlights didn't perform well during gradual left curves.
Other SUVs with acceptable headlights are the Ford Escape, the Honda CR-V and the Hyundai Tucson, in comparison to the Honda HR-V with headlights IIHS says are "inadequate on all four curves and on the straightaway."
Small SUV Headlight Rating (Acceptable)
2017 Ford Escape
Honda CR-V
Hyundai Tucson
Mazda CX-3
Small SUV Headlight Rating (Marginal)
BMW X1
Mazda CX-5
Mitsubishi Outlander
Toyota RAV4
Volkswagen Tiguan
Small SUV Headlight Rating (Poor)
Audi Q3
Buick Encore
Chevrolet Trax
Fiat 500X
Honda HR-V
Jeep Patriot
Jeep Renegade
Jeep Wrangler
2017 Kia Sportage
Mitsubishi Outlander Sport
Nissan Rogue
Subaru Forester
The small SUV headlight research is part of an effort by IIHS to test various functions of vehicles in addition to crash-test safety. In March, the safety agency found only one midsize car out of 31 has headlights that are rated "good."