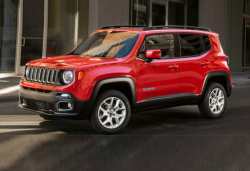 — Fiat Chrysler (FCA US) is recalling more than 8,500 Jeep Renegade SUVs equipped with factory-installed optional trailer hitches. The 2015-2016 Jeep Renegades have trailer hitches that can detach from the SUVs, meaning whatever is being towed will also detach from the vehicles.
Chrysler learned of a customer complaint in June 2016 when a customer said they heard a rattle noise from the rear of the SUV. FCA investigated the complaint and found Jeep Renegades that were built with only a single fastener per side used to attach the trailer hitch assemblies.
The hitches are supposed to be attached with three fasteners per side, so with just one fastener the tow bars could become loose and cause noise from the rear of the SUVs. If nothing is done, the entire tow bar can separate from the SUV and cause serious problems for every driver on the road.
FCA says it is aware of one warranty claim but unaware of any accidents or injuries related to the missing fasteners.
The recalled Jeep Renegades were built August 25, 2014, to June 25, 2016, and all are equipped with factory-installed optional trailer hitch packages.
Chrysler doesn't know when the recall will begin, but once underway dealers will install two additional fasteners per side.
Owners of the recalled 2015-2016 Jeep Renegades can call 800-853-1403 and ask about recall number S62.
Have a complaint about your Chrysler vehicle? Add your complaint here, about any vehicle. Or read complaints about Jeep Renegades and other Jeep vehicles.