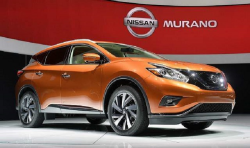 — Nissan is recalling more than 120,000 cars and SUVs to repair brake fluid leaks that may cause circuit boards to catch on fire. Worldwide, the automaker says about 134,000 are recalled, including almost 11,000 in Canada.
Recalled are the 2016-2017 Nissan Maxima and 2015-2017 Murano, both equipped with intelligent cruise control, and 2015-2016 Nissan Murano Hybrids.
The vehicles have anti-lock brake actuator pumps that can leak brake fluid onto internal circuit boards, causing electrical shorts in the systems. The problem is caused by anti-lock brake actuators that were manufactured out of specification.
Nissan tracked the problem to incorrect temperature controls that caused problems with the hardness of the seals.
In June 2016, Nissan learned of a fire that occurred in a 2016 Maxima and determined the fire came from an area of the anti-lock brake actuator housing. The automaker also determined that before the fire, the driver noticed an anti-lock braking system (ABS) warning light was illuminated.
Investigators found several more incidents of fires in other vehicles and issued the recall.
Nissan doesn't know when the recall will begin, but dealers will eventually replace the anti-lock brake system actuators if the dealers deem it necessary.
Nissan says if an owner notices the ABS warning light illuminated for more than 10 seconds after first starting the engine, the owner should not drive the vehicle. The automaker says if this occurs, the vehicle should be parked outdoors and away from anything flammable.
With questions, call Nissan at 800-647-7261.
CarComplaints.com has complaints about the Nissan Maxima and Nissan Murano.