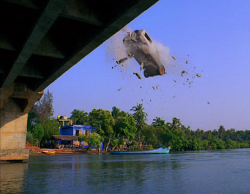 — Self-driving cars are on the agenda of the federal government as the Obama administration announced it wants Congress to spend $4 billion on the development and adoption of driverless cars.
Transportation Secretary Anthony Foxx said the safety of autonomous cars will be a leap for safety because 80 percent of accidents are caused by human error.
"If the technology meets its promise, my back of the envelope math tells me that more than 25,000 lives would have been saved in 2015 alone. That is powerful possibility, and that is not only worth pursuing, it is worth working aggressively to determine whether or not it is true."
As of now, self-driving cars still have humans behind the wheel, and based on the latest reports submitted to the California Department of Motor Vehicles (DMV), there is a reason for that driver standing guard.
California is the leading state where driverless cars are tested, primarily due to the friendly climate. The state recently released its proposed rules for testing autonomous vehicles, described as a vehicle that is operated or driven without active physical control by a "natural person" sitting in the driver's seat with the autonomous technology engaged.
Part of those rules focus on safety-related "disengagements" of the driverless technology.
Seven companies were approved for testing of self-driving cars in 2014, which required those companies to file disengagement reports with the DMV by January 1, 2016. The seven are Bosch, Delphi, Google, Mercedes-Benz, Nissan, Tesla and Volkswagen. To date, 11 companies have been issued autonomous vehicle testing permits.
The California DMV defines disengagements as deactivations of the autonomous mode when a failure of the technology is detected, or when the safe operation of the car requires the test driver to disengage the autonomous mode and take immediate control of the vehicle.
The results show the large amount of work Google has put into its testing of driverless cars and how companies such as Mercedes-Benz need to expend a little more effort in self-driving technology.
Google, the acknowledged leader in the driverless car arena, clocked more than 1.3 million miles since receiving a permit in September 2014, with over 424,000 of those miles driven on California public roads. And while other driverless cars are tested on open highways, Google has been concentrating on city streets and says 89 percent of "reportable disengagements" occurred in complex street environments.
Saying it wants a self-driving car with no steering wheel, pedals or driver, Google itself has a long way to go before that goal is attainable. Over a 15-month time period, Google said its self-driving cars detected 272 failures that caused the driver to take control of the car, and 69 incidents occurred where a driver took control of the car because of a perceived threat to safety.
Those incidents were then replicated in computer simulations that showed there would have been 13 crashes if the driver wouldn't have stepped in.
Some incidents reported in Google cars were blamed on the cars performing unwanted maneuvers, while other incidents were caused by reckless driving of other drivers.
Bosch: Parts manufacturer Bosch didn't have a good record, with a driver stepping in to take over 625 times in 935 miles. However, Bosch says all the incidents had been "planned tests."
Delphi: Out of 16,662 miles, Delphi drivers intervened 405 times, with 212 incidents blamed on a difficulty to recognize traffic lights and road markers.
Mercedes-Benz: It appears Mercedes self-driving cars had a rough time during testing, with drivers taking control 1,051 times out of 1,739 miles driven. Fifty-nine of those incidents were caused by a driver taking control of the car based on the driver sensing a problem, not due to an alert from the car.
Nissan: Out of 1,485 self-driving miles, Nissan self-driving drivers had to intervene 106 times to avoid an accident.
Tesla: The electric automaker reported zero incidents where a driver had to take control, but that's about all the automaker said.
Volkswagen: VW has two self-driving cars (named "Jack" and "Igor") that logged 15,000 miles on public highways, with 260 incidents where a human driver had to intervene and take control of the car.
Read the Self-Driving Car Disengagement Reports: