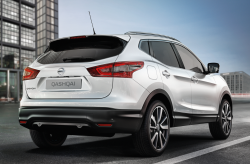 — The South Korean Ministry of Environment says it found evidence that new Nissan Qashqai compact SUVs are equipped with illegal devices to cheat on emissions tests.
According to environmental officials, the Nissan Qashqai, equipped with Euro 6 diesel engines, will not be sold in South Korea until Nissan can fix all the SUVs, including 814 vehicles that will be recalled.
South Korean officials say emission tests show some vehicles from various manufacturers turn off devices used to reduce emissions when temperatures reach about 122 degrees Fahrenheit. The purpose of the device deactivation is to protect the engines from overheating. However, South Korea says the Nissan Qashqai is the only vehicle that disables the emission reduction device at 95 degrees.
Officials say this is clearly intentional manipulation of the emissions reduction devices, a claim Nissan says is false.
"Nissan does not manipulate data related to our vehicles. Nissan has not and does not employ illegal defeat or cheat devices in any of the cars that we make." - Nissan Korea
Nissan further says the findings by South Korean officials contradict the findings of other regulators, including those in the European Union. Nevertheless, South Korean officials plan on fining Nissan 330 million won ($280,000) and will place a stop-sale on the SUVs.
Unlike the lack of criminal proceedings in the U.S. against automaker executives, South Korea says prosecutors may criminally indict Takehiko Kikuchi, the head of operations for Nissan Korea. This would follow actions taken against Volkswagen as South Korean prosecutors have been asked to indict two officials from VW's Korean operations.
Since 2007, the Nissan Qashqai has been manufactured in Britain and uses an engine from Nissan's business partner, Renault. Korean officials didn't indicate if any additional companies are involved in the alleged illegal Nissan emissions scheme.
South Korean lawyers are already talking about class-action lawsuits against Nissan to require the automaker to refund the cost of the SUVs to South Korean consumers and pay for the loss of value of the SUVs.