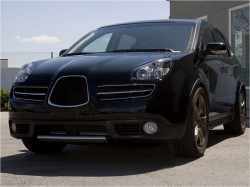 — A class-action lawsuit has been settled by the involved parties where the plaintiffs allege 2006 Subaru B9 Tribeca hoods can open while driving.
The Subaru B9 Tribeca hood lawsuit was filed by owner Marion Hadley who claims her 2006 Subaru B9 Tribeca was traveling 65 mph when the hood flew open and slammed into the windshield. Hadley claims the impact sent glass all over her and dislodged the rear-view mirror, leaving her no choice but to pull off the road and wait for help.
Owners of 2006 Subaru B9 Tribeca SUVs have complained to CarComplaints.com about similar hood problems, including about shattered windshields and repairs bills reaching $5,000.
"The primary vehicle hood latch failed as did the hood safety latch. The hood flew completely up, instantaneously shattering the windshield and completely restricting visibility while traveling at full highway speed. The interior hood safety latch mounting screws were completely ripped from the hood leaving the safety latch mechanism dangling in the engine compartment. The hood was damaged, the roof dented, the map lights were damaged and shards of glass litter the passenger compartment." - 2006 Subaru B9 Tribeca owner / Florence, Indiana
"Hood flew up while driving on RT9 South in oldbridge, NJ @ 45 mph. Repairs bill was around $5000. It happened to me back in 2009, and just today in 2013 I was about to add some windshield washer, so I opened my hood, and it popped up completely, and that secondary lock did not hold it again! it could have been another accident if it had happened on the running car. This is a problem that doesn't go away with repairs." - 2006 Subaru B9 Tribeca owner / South Amboy, New Jersey
According to the lawsuit, B9 Tribeca owners had complained to the National Highway Traffic Safety Administration about the hoods, so Subaru must have known about the problem. The plaintiff says about 18,000 owners of the 2006 Subaru B9 Tribeca SUVs could be harmed by the allegedly defective hoods.
Hadley complained in the lawsuit that the automaker didn't pay for repairs, which left owners paying thousands of dollars because of a hood defect. In her case, Hadley claims Subaru wouldn't even investigate why her hood flew open unless the plaintiff paid for everything.
She also claims Subaru must have known about the problematic hoods used in 2006 B9 Tribecas because the automaker starting using bolts in 2007 for the B9 Tribeca hoods. Hadley said this is proof Subaru knew the plastic clips it used in 2006 models didn't keep the hoods closed.
CarComplaints.com will update you with finalized terms of the hood lawsuit when they are made public.
The Subaru B9 Tribeca hood lawsuit was filed in the U.S. District Court for the District of New Jersey - Hadley v. Subaru of America, Inc.
The plaintiffs are represented by Cuneo Gilbert and LaDuca.