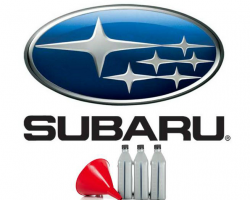 — A Subaru oil consumption lawsuit looks to be nearing an end as Subaru has agreed to settle the lawsuit that alleges owners of certain cars must spend a small fortune on motor oil.
The original class-action lawsuit was filed in July 2014 and included the following vehicles equipped with Subaru FB engines:
2011-2014 Subaru Forester
2013 Subaru Legacy
2013 Subaru Outback
2012-2013 Subaru Impreza
2013 Subaru XV Crosstrek
The oil consumption lawsuit, filed by lead plaintiffs Keith Yeager and Michael Schuler, alleges Subaru knowingly sold cars that burned oil at a high rate due to allegedly defective piston rings.
Additionally, the lawsuit alleges Subaru knew about the problems based on a constant stream of complaints, yet the automaker allowed owners to pay for unneeded engine repairs.
Subaru also issued four technical service bulletins to dealers about excessive oil consumption that told dealers to replace the piston rings for any customer who complained about oil consumption.
Subaru owners complain the cost can be as much as $8,000 to replace the piston rings and it does nothing to decrease oil consumption.
Although the court still needs to approve the settlement, Subaru has agreed to make changes on how it treats complaints about oil consumption. However, it's not clear if the settlement includes the vehicles originally named in the lawsuit or different models.
Subaru says if the settlement is given final approval by a judge, the automaker will provide a free "oil consumption test" to affected owners, in addition to extending the warranty to 8 years/100,000 miles.
Subaru owners will also be reimbursed for things associated with excessive oil consumption, including receiving up to six quarts of oil. Other expenses that will be reimbursed include the cost of repairs, including labor costs, the expense of towing and for money thrown out from renting cars.
Settlement notices will be mailed to affected owners who then must file a claim for compensation.
The Subaru oil consumption lawsuit was filed in the U.S. District Court, District of New Jersey - Yaeger, et al. v. Subaru of America Inc., et al.
The plaintiffs are represented by Girard Gibbs LLP, Chimicles & Tikellis LLP, and McCuneWright, LLP.