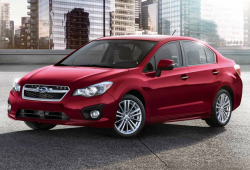 — Subaru recalled the Legacy and Outback less than a week ago and those models are recalled once again, in addition to Subaru's Impreza and Forester vehicles.
The automaker says the turbocharged engines have secondary air injection pumps that can fail due to overheating, then melt and catch on fire.
The 100,000 recalled vehicles include the 2007-2009 Subaru Legacy and Outback, 2008-2014 Subaru Impreza and 2009-2013 Subaru Forester.
Subaru learned of a possible problem all the way back in April 2011 when the automaker received a report of a check engine warning light illuminated due to secondary air injection pump failure.
From 2011 to September 2013, Subaru investigated the problem and determined the root cause of the check engine light activating and found a bad connection of the relay associated with the secondary injection pump.
In October 2013, the automaker received another report and this time the secondary air injection pump caught fire. Subaru wanted to investigate the part but a fire department had already taken it. But by May 2015, Subaru learned of another pump catching on fire, and this time the automaker was able to look at the pump and confirm the underlying problem.
If the problem occurs while driving, a driver will see a check engine warning light, so it's a good idea to watch for smoke from the overheating secondary air injection pump. From there it may not take long for the pump to melt and catch fire.
Subaru doesn't know when the recall will begin, but dealers will eventually replace the secondary air injection pump relays.
Owners of the Subaru Legacy, Outback, Impreza and Forester vehicles may call the automaker at 800-782-2783 and use recall number WTM-73.