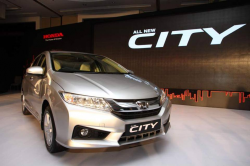 — Another Malaysian driver of a Honda City has been killed in a crash that involved an exploding Takata airbag.
Honda confirmed a Takata single-stage driver-side airbag inflator blew up in a September 24 crash that killed the driver of a 2009 Honda City, although no official cause of death has been determined. The automaker says the crash occurred in Johar state, but information about the victim has not been released due to privacy issues.
About 100 million vehicles have been recalled worldwide to replace Takata airbag inflators that can explode when the airbags deploy. The metal inflators inside the airbags contain an explosive chemical called ammonium nitrate that can become unstable due to heat, humidity and moisture. Sharp pieces of metal are shot out of the airbag and into the passenger cabin and anyone in the cabin.
At least 14 people have been killed by Takata airbags and more than 140 occupants have been injured.
Honda says the City vehicle was included in a Malaysian Takata recall that was announced on July 10, 2015, and a recall notice was sent to the registered owner. The recall required dealers to replace the single-stage inflator for the driver's side airbag, but Honda says its records show the repair was never completed.
The 2009 Honda City was also included in a June 2016 recall to replace the passenger-side frontal airbag inflator, and although the airbag hadn't been repaired, Honda says the airbag deployed correctly in the crash.
Honda vehicles in Malaysia have been involved in other Takata-related crashes that caused deaths, including deaths that occurred in Honda City vehicles.
In June 2016, a 2005 Honda City was involved in a minor crash in Petaling Jaya where the 44-year-old woman driving the car was killed by metal that shot out of the Takata inflator. The woman suffered from wounds to her chest and investigators said metal from the airbag was sticking out from the center of the steering wheel.
In May 2016, Honda confirmed two people were killed in two Honda City crashes where the Takata airbags exploded, and in June 2015, a wrongful death lawsuit was filed concerning a 2014 crash of a 2003 Honda City.
The lawsuit alleges the driver, Law Suk Leh, 42, was eight months pregnant and driving her 2003 Honda City car in East Malaysia when she hit another vehicle at an intersection.
The Takata airbag exploded, allegedly causing the woman to suffer a wound to her neck from a 1-inch diameter piece of metal. She died while being transported to the hospital.
Although Leh was deceased, her unborn daughter (Elsa Mia Law Caido) was delivered at the hospital but sadly died three days later from injuries sustained in the crash.