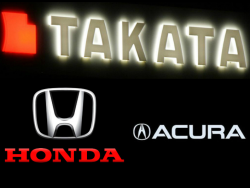 — Honda is adding to its massive number of recalled vehicles to replace Takata airbags. The automaker says another 2.2 million vehicles are added to bring the total of Takata-equipped Honda and Acura recalled vehicles to 8.5 million.
This time it's the driver-side airbags that uses a PSDI-5 inflator to deploy the airbags in the following vehicles:
2005-2012 Acura RL
2007-2011 Honda CR-V
2007-2016 Acura RDX (early production 2016 vehicles only)
2007-2014 Honda Ridgeline
2009-2014 Honda Fit
2009-2014 Acura TL
2010-2014 Honda FCX Clarity
2010-2014 Honda Insight
2010-2013 Acura ZDX
2011-2015 Honda CR-Z
2013-2016 Acura ILX (early production 2016 vehicles only)
The only good thing is Honda says there have been no PSDI-5 inflator ruptures in any of its vehicles.
The automaker has been hit hardest concerning exploding Takata airbags. Most of the deaths from exploding Takata airbag inflators occurred in Honda vehicles as the automaker was the largest Takata auto airbag customer.
However, at the end of 2015, Honda finally had enough and told Takata the marriage was over.
This latest recall of 2.2 million vehicles will have Honda using suppliers other than Takata for the replacement airbag inflators. But, because of the millions of vehicles needing airbag inflators, Honda says replacement parts won't be available until summer of 2016.
Honda will send owners the first recall notice in the next 60 days explaining what is going on. A second recall notice will be mailed once replacement parts are available.
Areas of high absolute humidity take priority based on the theory that heat and humidity causes the explosive airbag chemical (ammonium nitrate) to explode with too much force.
The first areas that will be targeted for the recall are Alabama, California, Florida, Georgia, Hawaii, Louisiana, Mississippi, South Carolina, Texas, Puerto Rico, the U.S. Virgin Islands, Saipan, Guam and American Samoa.
Honda says it hopes that by February 15, 2016, owners will be able to do a search and determine if their car is recalled. Honda and Acura owners can visit www.recalls.honda.com or www.recalls.acura.com or call 888-234-2138.
Read complaints about the Honda vehicles named in the Takata airbag recall: