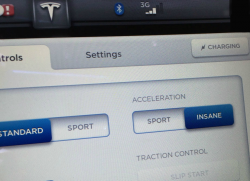 — Electric automaker Tesla has agreed to settle a Model S P85D lawsuit just days before the case was scheduled to begin in a Norwegian court. The lawsuit was filed by Norwegian owners of Tesla Model S P85D cars after those owners accused Tesla of falsely marketing the horsepower capabilities of the cars.
The automaker is known for promoting its cars with "Insane" and "Ludicrous" modes that make the $120,000 Model S P85D cars capable of going from 0-60 mph in 3.2 seconds and having enough power to feel like you're in a fighter jet taking off from an aircraft carrier.
Tesla Model S P85D owners in Norway say they were told all that power comes from two electric motors delivering 691 horsepower, with one 224 horsepower motor for the front wheels and a 467 horsepower motor for the rear wheels.
Combined, both motors equal 691 horsepower, but Model S P85D owners started complaining the cars couldn't come close to reaching that number.
Prior to the lawsuit, Tesla had already been ordered by the Norwegian Consumer Disputes Commission to pay Model S P85D owners about $6,000 each after owners complained about misleading horsepower numbers. However, more than 100 owners said the deal wasn't good enough, so they filed suit to pry more money from Tesla's hands, a tactic that worked.
According to the lawsuit, although Tesla started advertising the cars as having 691 horsepower, engineers determined the cars can achieve only 463 horsepower because of limitations in the electronics and the battery packs.
While the motor for the front wheels is rated at 224 horsepower and the motor for the rear wheels comes in at 467 horsepower, the limitations of the car blocks maximum horsepower from the motors.
The lawsuit alleges Tesla did change the horsepower specifications in its advertising, but it came too late for many Model S P85D owners. According to the settlement agreement, Tesla owners will receive $9,500 credit with the automaker or a cash payment of $7,700.
Additionally, owners can choose upgrades for their cars but accept less cash.
The automaker denies the cars lack power and say testing done by Tesla and independent third parties proves the Model S P85D's acceleration and motor power numbers have always been accurate, even understated.