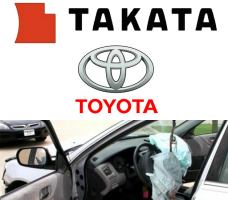 — Takata airbags have taken another toll on Toyota as the automaker announces the expansion of two recalls involving front passenger airbag inflators.
The automaker says about 330,000 model year 2008 Corolla, Corolla Matrix and 2008-2010 Lexus SC 430 cars are recalled worldwide. It brings the total number of recalled Toyota vehicles with Takata airbags to 15.3 million globally and 3.1 million in the U.S.
The recall expansion includes 198,000 cars in the U.S. and 231,000 throughout North America, all that need the dual-stage front passenger airbag inflators replaced.
The National Highway Traffic Safety Administration said long ago the recalls will continue for a while as automakers identify models that could be affected. In addition, investigators must determine if a car has just one inflator that can be dangerous or if both front airbag inflators need replaced.
Those inflators have killed at least 10 people and injured about 140. The inflators are used as their name suggests, to inflate the airbags when the system detects a crash. Inside the metal inflator is a chemical called ammonium nitrate that is used to provide a small explosive force to deploy the airbag.
However, scientists have determined heat, humidity and the design of the inflator can allow moisture to seep inside and interfere with the chemical. What is supposed to be a small controlled explosion becomes a massive grenade-like explosion that sends shards of the metal inflator slicing through vehicle occupants.
Toyota hasn't said when the U.S. recall will begin, but dealers will replace the passenger-side front airbag inflator or airbag assembly.
If you own a 2008 Corolla or Corolla Matrix and have questions, contact Toyota at 800-331-4331. Owners of the 2008-2010 Lexus SC 430 may call Lexus at 800-255-3987.
Have a complaint about your Toyota vehicle? Add your complaint here, about any vehicle, or read complaints about the vehicles named in the Takata airbag recall.