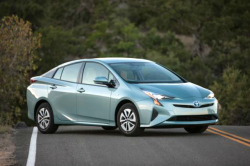 — Toyota is recalling about 7,600 model year 2016 Toyota Prius cars in the U.S. to fix airbags that may deploy without cause, including while the cars are parked and unoccupied.
Toyota says the recall is unrelated to exploding Takata airbags, but the automaker didn't name the airbag manufacturer.
The front passenger airbags contain compressed gas that is stored in the inflators. Toyota didn't go into many details, but a component inside the airbag might not have been welded correctly during assembly. The stored gas can escape from the inflator and cause the frontal passenger airbag to deploy without warning.
Toyota says it knows of incidents where the airbags deployed while the Prius cars were parked and unoccupied, but the automaker says it is unaware of any injuries related to the defect.
The National Highway Traffic Safety Administration hasn't released details, but Toyota owners should receive recall notices in November 2016.
Affected owners of the 2016 Toyota Prius cars may call 800-331-4331.
CarComplaints.com will update this page when additional Toyota Prius recall details are published.