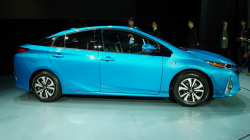 — Toyota is recalling about 340,000 Prius cars worldwide, including about 92,000 located in the U.S. The 2016-2017 Toyota Prius sedans have parking brakes that could fail, leading to a higher chance of rollaway incidents.
Toyota hasn't released much information and the National Highway Traffic Safety Administration (NHTSA) hasn't released details, but the automaker says dealers will add clips on the top of the brake cable dust boots to keep the parking brake cables in working order.
Toyota says it expects to start notifying owners in November 2016.
If you own a 2016-2017 Toyota Prius and have questions about the recall, call Toyota customer service at 800-331-4331.
CarComplaints.com will update this page when NHTSA publishes details about the Toyota Prius recall.