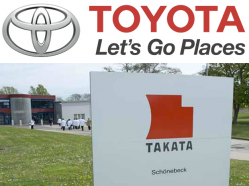 — Toyota is recalling 5.8 million more vehicles to replace deadly Takata airbags, with some of those vehicles recalled a second time to replace the replacement airbag inflators.
Takata has been busy destroying profit margins of many automakers after the airbag manufacturer admitted its airbags were exploding and killiing people. So far, the airbags have killed at least 16 people and injured more than 140 worldwide, while causing recalls of 100 million vehicles worldwide.
The airbags contain metal inflators, and inside those inflators is the explosive chemical ammonium nitrate used to create a small quick explosion to deploy the airbags in a crash.
But instead of protecting car occupants, the metal inflators can explode and send sharp pieces of metal into occupants.
Toyota says the recall of 5.8 million vehicles shouldn't affect cars in the U.S., but the same can't be said for other countries.
The automaker says more than 1 million vehicles sold in Japan need new airbags, as does 1.5 million cars in Europe and 820,000 vehicles that were sold in China.
Australian authorities say it appears 180,000 cars in their country will be recalled, with additional Toyota cars recalled in Africa, the Middle East, Singapore and South America.
Toyota named numerous models, including the following vehicles that will have their driver-side airbag inflators replaced:
Toyota Hilux
Toyota Corolla
Toyota Etios
Toyota Yaris
Other vehicles will have the passenger-side airbag inflators replaced:
Toyota Corolla
Toyota Corolla RunX
Toyota Corolla Axio
Toyota Corolla Fielder
Toyota Corolla EX
Toyota Corolla Rumion
Toyota Belta
Toyota Ipsum/Picnic
Toyota Auris/Blade
Toyota Alphard/Vellfire
Toyota Vios
Toyota Noah/Voxy
Toyota Etios
Toyota Probox/Succeed
Toyota Gaia
Toyota Brevis
Toyota Mark 2
Toyota Vitz/Yaris
CarComplaints.com will update our website if Toyota adds vehicles for U.S. customers.