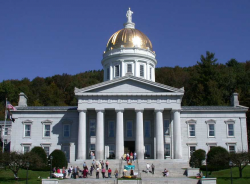 — Vermont has turned down Volkswagen's U.S. emissions cheating settlement offer and opted to sue Audi, Porsche and VW for showing a "blatant disregard" for the protection of the state's natural resources and the health of its residents.
VW agreed to spend $15 billion to settle U.S. lawsuits and complaints about the cheating, but Vermont Attorney General William Sorrell says Vermont wants no part of VW's proposed settlement that would have paid just $1,000 per vehicle for violating Vermont's consumer protection laws.
The lawsuit alleges Volkswagen spent eight years deceiving Vermont consumers and state regulators by manufacturing diesel vehicles that were falsely marketed and sold as being environmentally friendly. Vermonters are serious about the environment and are the second highest per capita purchasers of the illegal "clean diesel" vehicles in the U.S.
The complaint alleges between 2008 and 2015, Volkswagen designed, produced, advertised, sold and leased 16 models of diesel vehicles equipped with illegal software which allowed the vehicles to bypass air pollution control laws.
The illegal "defeat devices" installed on the cars detects when a vehicle is undergoing emissions testing as opposed to when it is being driven normally by consumers.
During emissions testing, the sophisticated software activates the vehicle's emissions controls so the vehicle complies with emissions standards. When the vehicle is being driven normally during non-test conditions, the defeat device deactivates the mandatory required emissions controls, causing the vehicle to emit unlawful levels of nitrogen oxides.
Those unlawful levels can be 40 times higher than the legal limit and contribute to health problems, especially problems related to the lungs and breathing.
Vermont says VW knowingly took measures to mislead regulators even after internal documents proved the automaker knew the vehicles had been illegal for years.
State leaders says that in 2014, VW sent a proposed software recall to regulators assuring the recall would "optimize" the car's emissions. However, Vermont says it was nothing but a "sham" recall that VW knew couldn't work to make the cars legal.
"For seven years, the defendants polluted our air, covered up their wrongdoing in order to mislead environmental regulators, and then sold their vehicles, at a premium, to unsuspecting customers. We will not tolerate blatant disregard of laws designed to protect our environment, the public health, and our consumers." - Attorney General William Sorrell
Vermont officials say cars are responsible for more than half of the nitrogen oxides emitted in the state. And according to the state, Volkswagen not only violated environmental laws, the automaker charged premium prices to do it, all while falsely advertising its "clean," ''green" and "environmentally friendly" vehicles.
The lawsuit mentions numerous examples of false advertising used by VW to sell the illegal vehicles, including one advertisement from 2015 called "Old Wives' Tales" that was viewed more than 20 million times.
The ad featured a character who places her scarf against the tailpipe of one of the "clean diesel" vehicles and exclaims, "see how clean it is!"
In addition, even though the cars were emitting nitrogen oxides up to 40 times above legal limits, a press release from 2013 advertised the 2014 Volkswagen Touareg as equipped with emissions technology that reduced nitrogen oxide emissions by up to 90 percent.
Vermont is suing VW for multiple violations of the Vermont Consumer Protection Act, Vermont Statutes Annotated and Vermont Air Pollution Control statutes and regulations.
Have a complaint about your Audi, Porsche or Volkswagen vehicle, add your complaint here, about any vehicle. Or read complaints about Audi, Porsche and Volkswagen vehicles.