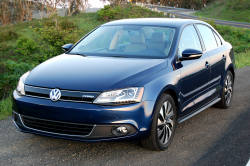 — A Volkswagen Jetta Hybrid regenerative braking system lawsuit will continue after California Judge Elihu M. Berle ruled against VW's motion to dismiss the lawsuit that was filed in 2015.
Plaintiff Peter Bryan Burra filed the Jetta Hybrid lawsuit alleging the "regenerative braking system" in his 2013 Jetta is defective and doesn't predict how much time or distance he will need to make a safe stop.
The regenerative braking systems in hybrid cars are used to convert kinetic energy from the brakes into electricity for the motors. The technology allegedly extends the life of the braking components while helping owners get better gas mileage. But the plaintiff claims he rear-ended a vehicle in 2013 and another in 2015 because the braking system left him guessing the distance for coming to a stop.
Burra says the 2013 Volkswagen Jetta Hybrid braking system is a safety risk on the road but VW concealed the alleged defect to keep selling the cars.
Volkswagen previously said the case shouldn't be heard in front of a jury because the plaintiff agreed to enter arbitration according to the sales contract concerning a dispute about the Jetta Hybrid.
However, the judge ruled against VW by saying the contract clause didn't apply because the alleged defect isn't related to warranty problems. In addition, the judge ruled an arbitration agreement can't be enforced by the automaker because the plaintiff signed the sales agreement with the VW dealer, not directly with the manufacturer.
Volkswagen responded by saying the sales agreement clearly applies to third parties even if those parties didn't sign the contract and if the plaintiff can depend on wording in the agreement, so can Volkswagen.
But the judge came down on the side of the Jetta owner and further said the case will continue based on the claim VW concealed a safety risk from consumers.
The Volkswagen Jetta Hybrid regenerative braking lawsuit was filed in the Superior Court of California for the County of Los Angeles - Burra v. Volkswagen of America Inc.
The plaintiff is represented by the Law Office of Robert L. Starr APC.