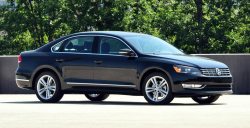 — Volkswagen is in the news again concerning TDI diesel cars, but this time it has nothing to do with illegal nitrogen oxide emissions. This time it concerns cars that can catch on fire thanks to an electrical short.
VW says about 91,000 model year 2012-2014 Passats equipped with TDI engines have wire seals that weren't properly manufactured. The automaker says the faulty wire seals are in a connector for an underbody sensor that can be affected by water, causing corrosion of the connectors inside the sensor. The corrosion can cause overheating and an electrical short that can lead to an underbody fire.
The only warning a driver will have of a problem is the illumination of the malfunction indicator warning light.
Volkswagen didn't say much about the Passat recall or how the manufacturing process caused the wire seals to fail. VW also didn't say when the Passat recall will begin, but dealers will eventually inspect the connector and replace it if needed.
Until the vehicle is repaired, an owner should monitor the malfunction indicator warning light for problems related to overheating of the underbody sensor.
Owners of the 2012-2014 Passat may call Volkswagen customer service at 800-893-5298 and give them recall number 23T3.