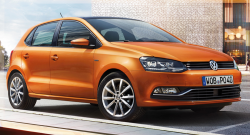 — If British consumers are looking for accurate Volkswagen Polo safety ratings, they may want to ignore what VW dealerships say.
According to an undercover investigation conducted by the British current affairs TV show "Dispatches," sales agents for VW have been lying to consumers about 5-star safety ratings for the Polo.
Channel 4 TV sent undercover personnel posing as potential buyers into eight Volkswagen dealerships and six of those dealerships provided false safety ratings information.
Sales reps bragged how the VW Polo had received the highest safety award of 5 stars, with one rep saying the Polo had been tested in 2014 and the 2015-2016 models positively had 5-star safety ratings. But Channel 4 found a little problem with those statements.
The VW Polo doesn't have a 5-star safety rating and hasn't even been through the European New Car Assessment Programme for the past seven years.
In 2009 the Polo was awarded a 5-star safety but that doesn't mean anything now because the tests have changed and been updated since 2009. Investigators from Channel 4 say the Polo wouldn't qualify for a 5-star rating today even if it was tested because the vehicle needs more safety features to qualify for a high rating.
Volkswagen management responded to the allegations by saying it regrets a "small number of dealer staff" didn't tell the undercover Channel 4 personnel the Polo safety rating had expired. VW said it will take steps to improve training of dealership staff so consumers don't receive false information.
Party On!
While Volkswagen is having a tough time in the UK, Volkswagen's Audi division is making news in Germany and this time it has nothing to do with poisoning the world with toxic emissions.
It seems that as VW's emissions scandal was preparing to blow up, top managers were drinking the night away at a "beer contest" to the tune of nearly $14,000 billed to Volkswagen.
Audi billed Volkswagen 12,500 euros for the May 2015 drinkfest that included 30 top managers, with the expense listed as a beer contest. According to German media reports, the "event" has now been reclassified as a "private party," and the head of Audi has been ordered to reimburse $14,000 to the automaker.