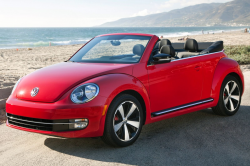 — Volkswagen is recalling 325 model year 2016 Volkswagen Beetle Convertibles equipped with 18-inch wheels. The recall, like many other safety recalls, involves only a label, or in this case tire placards with incorrect sidewall height ratio information.
That little issue is a violation of federal safety standards because installing a tire too small for the car can cause incorrect readings of the speedometer.
The recalled 2016 VW Beetle Convertible cars were manufactured June 18, 2015, to November 9, 2015, and again, include only those with 18-inch wheels.
Beetle Convertible owners will be notified about the recall by the end of February 2016. The VW dealer will install a new and correct tire placard.
With questions, owners should contact Volkswagen customer service at 800-893-5298 and ask them about recall number 01B3.