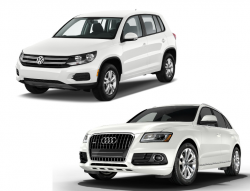 — Volkswagen has caught the infectious Takata airbag disease that has caused millions of cars to be recalled by at least 12 auto manufacturers.
VW says 734 model year 2015 Volkswagen Tiguan and Audi Q5 vehicles have seat-mounted airbags that could explode on the front driver or passenger side.
The overwhelming majority of recalled Takata airbags have involved only frontal airbags that can explode with too much force and send shrapnel into occupants. Those airbags have killed at least 10 people and injured over 100.
Although most of the recalled vehicles have been older models, the VW recall was ordered on newer models equipped with Takata airbags that are mounted on the seats and deploy from the sides.
In June 2015, VW learned of an accident involving a 2015 Volkswagen Tiguan where the Takata side airbag inflator exploded and injured the driver under the left arm. VW later ordered a large scale analysis of airbag parts after two failed tests occurred at Takata.
Based on those failures, the decision was made to order a recall.
The affected 2015 VW Tiguans were built January 15 to January 21, 2015, and the Audi Q5s were manufactured January 13, 2015, to February 3, 2015.
Volkswagen doesn't know when the recall will begin. VW and Audi dealers will eventually replace the side airbag modules once the recall begins.
Owners with questions or concerns should call Audi customer service at 800-822-2834 or Volkswagen at 800-893-5298. VW Tiguan owners should refer to recall number 69L9 and Audi Q5 owners should reference recall number 69M1.
Read complaints sent to CarComplaints.com about the Audi Q5 and the Volkswagen Tiguan.