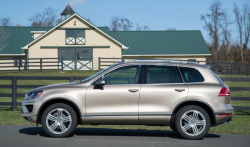 — Volkswagen is recalling 366 vehicles to fix tire pressure monitoring problems and to correct tire pressure labels.
VW says the 2016 Touareg SUVs have tire pressure monitoring systems that may not have been calibrated properly. This means a driver may not have all kinds of bells and whistles sounding off if the tire pressure falls below recommended levels.
Additionally, Volkswagen says the tire pressure information printed on the labels is incorrect.
VW says it has already notified Touareg owners to get the SUVs to dealers so the tire pressure systems and the tire pressure safety labels can be corrected.
Owners with questions should contact their local Volkswagen dealer and ask about recall number 44M9.
Volkswagen has ordered previous recalls due to tire label problems, including a recall in February 2016 for Beetle Convertibles with incorrect tire pressure safety labels.
Then in June 2015, the VW Tiguan was recalled because of faulty tire pressure labels.