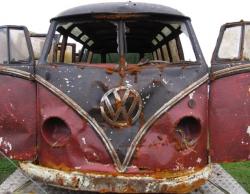 — Volkswagen's problems are piling up as a federal judge set a deadline for answers about how illegal emissions will be fixed, while research shows the automaker has serious reputation problems with the public.
U.S. District Judge Charles Breyer told Volkswagen it has had plenty of time to provide a response about how 600,000 U.S. diesel cars will be made legal for nitrogen oxide emissions. The judge says the automaker has until March 24 to submit a fix for "clean diesel" engines, and it must be a fix that can pass review by the Environmental Protection Agency.
Consumers and U.S. regulators have been waiting about five months for VW to submit details about how the vehicles will be repaired. Judge Breyer says the March 24 deadline will be six months since the automaker admitted the cars are illegal, and six months is too long for the automaker to delay in coming up with a fix.
Judge Breyer says something has to be done soon because Volkswagen diesel vehicles are polluting the atmosphere every day while dealers and owners are stuck with vehicles they can't sell.
Breyer says it is important to set a deadline because lawyers will take forever to do something if they believe they have forever to do something. Creating a deadline will make VW and its attorneys finally offer details of what will be done to correct the emissions problems.
According to Breyer, VW should do what is right for consumers, even if it's not the best thing for shareholders. In addition, the judge says the government should be prepared to provide a quick response to VW once the proposal is submitted.
Volkswagen is facing about 500 lawsuits consolidated into multidistrict litigation after the automaker admitted its clean diesel vehicles have been on U.S. roads illegally for seven years.
The lawsuits accuse VW of installing special software called a "defeat device" that turns on nitrogen oxide emission controls during tests. During the tests the cars emit legal levels of emissions, but once the cars are back on the road, nitrogen oxide emissions are up to 40 times above legal standards.
Volkswagen's Reputation Up in Smoke
Outside of court, Volkswagen got more bad news from a Harris poll concerning the automaker's reputation in the eyes of the general public. According to the 17th annual study called the Harris Poll 2016 Reputation Quotient Summary Report, Volkswagen is in deep trouble with what consumers believe about the automaker.
The study includes responses from more than 23,000 consumers concerning the top 100 "most visible" companies in the U.S., seven of those companies being automakers. Out of all 100 companies, Volkswagen was rated last (100th) for reputation and the automaker was the only company to receive a "very poor" rating.
The drop is a major disaster for VW that had the second highest-rated reputation in the auto industry in 2015.