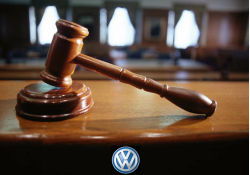 — The Volkswagen settlement agreement has finally been approved by U.S. District Court Judge Charles R. Breyer concerning 475,000 Volkswagen and Audi 2-liter diesel vehicles in the U.S.
More than a year after Volkswagen got caught cheating on emissions tests, the judge said the nearly $15 billion agreement will ensure affected diesel owners and lessees will be fairly compensated.
The drama got underway in 2015 when university researchers kept finding problems when testing VW and Audi diesel vehicles for nitrogen oxide emissions. Researchers told the Environmental Protection Agency (EPA) about faulty lab emission levels that didn't match what VW had advertised.
The EPA confirmed 475,000 2-liter diesel vehicles were equipped with illegal software called defeat devices that turned on emissions controls during testing, then turned the controls off once the cars were back on the roads. Once word spread in the U.S. about the illegal vehicles, VW admitted about 11 million diesel vehicles worldwide were illegal.
VW and Audi Vehicles Covered by Settlement
In the U.S., the following 2-liter TDI diesel engine vehicles are included in the settlement program:
2013-2015 Volkswagen Beetle
2010-2015 Volkswagen Golf
2009-2015 Volkswagen Jetta
2012-2015 Volkswagen Passat
2010-2013 Audi A3
2015 Audi A3
The terms of the agreement allow affected 2-liter diesel owners and lessees the choice of accepting a vehicle buyback or lease termination, or having the cars fixed. However, getting the vehicles fixed is a problem because the automaker currently has no idea how to repair the cars.
As for additional payments, current owners and lessees and certain former owners and lessees will receive compensation payments of $5,100 to $10,000.
Although 2-liter owners in the U.S. will see their bank account balances increase, millions of people outside the U.S. have complained about not receiving a nickel in compensation. However, VW says comparing what is happening in the U.S. to other countries shouldn't be attempted because regulations about nitrogen oxide emissions in the U.S. are much stricter than other parts of the world.
The automaker also says engine variants in the U.S. are completely different, which makes technical solutions more challenging in the U.S. compared to Europe and other parts of the world.
With about $10 billion of the settlement money going toward VW and Audi owners, another $2.7 billion will be paid over three years into an environmental trust for remediation of excess nitrogen oxide emissions. Additionally, VW will invest $2.0 billion in electric vehicles and infrastructure over a period of 10 years.
Next Steps for Diesel Owners
Affected 2-liter diesel owners may submit their claims by visiting www.VWCourtSettlement.com or by calling 1-844-98-CLAIM. VW will schedule appointments with settlement specialists who have been assigned to dealership locations.
As for 3-liter diesel owners, Volkswagen says it isn't ignoring them as the automaker continues to work toward a resolution for those 85,000 U.S. vehicles, but so far no settlement agreement is in sight for the V6 diesel engines.