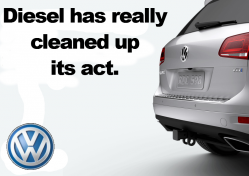 — Volkswagen has agreed to a settlement worth $10 billion to compensate U.S. owners of about 475,000 2-liter "clean diesel" vehicles that have been emitting illegal levels of nitrogen oxides for at least seven years.
The automaker originally got caught by West Virginia University which was performing emissions tests on VW diesel vehicles. Researchers couldn't make the numbers fit and contacted the EPA about the discrepancies.
Under questioning from the EPA, Volkswagen admitted 2-liter cars going back at least seven years have "defeat devices" installed to defeat official emissions tests. The device is really just illegal software that makes the emissions levels appear to be normal in the lab, then once the cars are back on the roads the nitrogen oxide emissions can be up to 40 times higher than legal standards.
In addition to about 475,000 2-liter "clean diesel" vehicles in the U.S., another 10.5 million illegal vehicles are located outside the U.S.
Although the U.S. agreement is tentative and not yet approved by the judge, the $10 billion will be used just for VW owners and lessees while another $4.7 billion will be paid for government fines and to create electric "clean emissions" technology.
The Volkswagen and Audi 2-liter vehicles named in the settlement go as far back as 2009 models.
2013-2015 Volkswagen Beetle
2010-2015 Volkswagen Golf
2009-2015 Volkswagen Jetta
2012-2015 Volkswagen Passat
2010-2013 Audi A3
2015 Audi A3
Based on the preliminary settlement agreement, Volkswagen will offer to buy back the illegal cars for the estimated value of the vehicles as of September 2015, then pay owners a minimum of $5,100 in compensation for each vehicle.
Owners can choose the buyback option plus cash compensation, or choose to have the cars fixed and still receive the compensation.
However, federal regulators are still waiting on an explanation from VW about how the vehicles will be repaired, a fix that will need to be approved by all parties involved. It's possible any approved fix could make the cars legal concerning nitrogen oxide emissions, but the vehicles may experience changes to power or fuel economy.
Consumers who lease affected vehicles will be offered compensation, but the minimum amounts will vary.
Preliminary Volkswagen Emissions Settlement Agreement Terms (Owners and Lessees)
Although not yet approved and finalized by the court, the settlement agreement terms are as follows:
Eligible owners shall be offered the choice between (1) a buyback and owner restitution, including loan forgiveness; or (2) an approved emissions modification and owner restitution.
Eligible lessees who retain an active lease of an eligible vehicle shall be offered the choice between (1) a lease termination and lessee restitution; or (2) an approved emissions modification and lessee restitution.
Eligible lessees who return or have returned the eligible vehicle at the conclusion of the lease shall be offered lessee restitution.
Eligible lessees who obtained ownership of their previously leased eligible vehicle after June 28, 2016, shall be offered an approved emissions modification and lessee restitution.
Eligible Sellers Will Be Offered Restitution
Owners whose eligible vehicle was totaled and who consequently transferred title of their vehicle to an insurance company after the opt-out deadline, but before the end of the claim period, shall be offered owner restitution but not a buyback.
VW still must come up with a solution for about 80,000 3-liter models in the U.S., something that could take months and is separate from the $14.7 billion U.S. agreement.