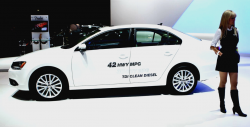 — Volkswagen will buy back or fix all 2-liter diesel vehicles that have illegal software called defeat devices used to alter nitrogen oxide emissions.
The vehicles contain illegal software that provides correct emissions data during official tests, but once back on the roads for normal use the cars revert to a much higher emissions level, specifically nitrogen oxide emissions.
Nitrogen oxide emissions cause all kinds of health problems, which is why U.S. regulators put limits on nitrogen oxide emissions from vehicles. The VW and Audi vehicles emit up to 40 times the legal limits for nitrogen oxides, something that has continued for at least seven years.
Owners of nearly 500,000 of those vehicles in the U.S. will have an opportunity to sell the vehicles back to VW or have the cars repaired, although the automaker hasn't said how they will be repaired. U.S. District Judge Charles Breyer said an "agreement in principle" had been reached between Volkswagen and U.S. government agencies.
Those government agencies include the California Attorney General, California Air Resources Board (CARB), U.S. Department of Justice and the U.S. Federal Trade Commission.
One thing the deal is known not to include is what will happen with the federal fines and penalties VW has accumulated since the feds learned of the scam. In addition, each state has went after the automaker for civil penalties for defrauding consumers and a federal criminal investigation continues.
Attorneys handling hundreds of class-action lawsuits against VW have tentatively approved the agreement, at least for owners of 2-liter models. Those models include the 2009-2016 VW Beetle, Golf, Jetta, Passat and Audi A3 cars which make up about 85 percent of all U.S. VW vehicles needing repairs.
Kelley Blue Book, the company that many people use to estimate the cost of vehicles, said it would likely cost $7 billion if VW repurchased all the cars, but a source close to the talks said the cost could top $10 billion.
There isn't an indication how VW will repair cars that were believed to be irreparable, not without altering the fuel economy or power. However, the judge apparently believes it can be done and the government believes it can be done.
Any talk of a buyback will likely be at fair market value of the cars before it was learned the cars were illegal. One unnamed source said in addition to buying back the cars, owners will receive a payment of cash from a compensation fund created by Volkswagen. Consumers who lease an affected vehicle will have the opportunity to cancel their leases without any penalties, plus receive cash payments.
Saying owners will receive "substantial compensation," the judge said the deal is not currently meant for owners of 100,000 illegal 3-liter models.
Owners of 85,000 3-liter models await to learn what options they will have for their vehicles, including the VW Touareg, Porsche Cayenne, Audi A6 Quattro, A7 Quattro, A8, A8L, Q5 and Audi Q7.
Judge Breyer gave all the parties until June 21 to provide a concrete proposal that spells out exactly how much owners can receive and how the 2-liter cars will be repaired if an owner chooses that option. A July 26 hearing will give everyone involved an opportunity to voice their concerns or objections.
Although this is a huge step for U.S. owners, Volkswagen still has more than 10 million illegal vehicles to contend with outside the U.S. Volkswagen, Audi and Porsche owners outside the U.S. are upset because they aren't receiving the same compensation as owners in America.