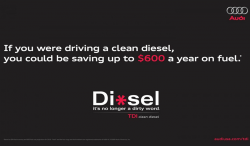 — About 85,000 U.S. owners of illegal 3-liter Volkswagen vehicles may be licking their chops after reading owners of 2-liter diesel vehicles will be offered compensation and buyback offers, but 3-liter owners should remove the napkins from their laps.
Based on what Volkswagen told a California court, the automaker believes it can fix the 85,000 affected vehicles and make them perfectly legal. This can allegedly be done without causing changes to power or fuel economy, according to Volkswagen.
The 3-liter Audi, Porsche and VW vehicles have different emissions issues compared to 475,000 2-liter vehicles in the U.S. The 3-liter vehicles are considered illegal because the automaker withheld information about "auxiliary emission control devices" that weren't properly declared when receiving approval in the U.S.
Those devices are considered "defeat devices" used to alter nitrogen oxide emissions levels when the vehicles are tested. During tests, the vehicles show legal emissions, but once the vehicles are out of the lab they emit up to nine times the emissions allowed by law.
In the case of 2-liter vehicles, the defeat devices are different and cause the vehicles to emit up to 40 times allowable emissions levels.
If Volkswagen follows through with the fix, the following vehicles will be repaired without offers of additional compensation or buybacks:
2009-2016 Audi A6
2009-2016 Audi Q7
2009-2016 Audi A7
2009-2016 Audi A8
2009-2016 Audi Q5
2013-2016 Volkswagen Touareg
2013-2016 Porsche Cayenne
Nothing is final and no deadline has been set to fix the vehicles, but the next hearing is scheduled for August 25 for VW to update the judge about progress made toward a solution.
Lawyers from Volkswagen told U.S. District Judge Charles Breyer the automaker doesn't believe a permanent fix will be complicated. However, U.S. Justice Department officials say tests continue on 3-liter vehicles and any final fix is months away.
No VW Buyback or Compensation in Europe
Volkswagen 2-liter diesel owners in the U.S. may be getting a buyback offer and compensation from the automaker, but European customers won't be invited to the party.
Volkswagen CEO Matthias Müller told European Union representatives millions of VW owners outside the U.S. have a greater chance of seeing their cars repaired because emissions standards aren't as strict compared to the U.S.
While it's true emissions standards are different, it's clear the real reason for skipping an offer of compensation is based on the tremendous amount of money VW would spend. The automaker agreed to pay 475,000 U.S. owners more than $10 billion to buy back the vehicles and pay compensation, but in Europe there are about nine million owners.
As it stands, VW says it could take 14 years to regain what has been lost, and Müller told German newspaper "Die Welt" that a person doesn't need to be a mathematician to realize compensation to nine million customers would wipe out the automaker.