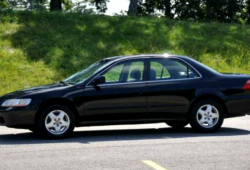 — With at least 13 deaths and more than 100 injuries attributed to exploding Takata airbags, millions of drivers worry what will happen if they are in a fender-bender before their airbags can be replaced.
Driving a potential time bomb to a dealer then driving away from a dealership without the needed airbag repairs can make the most brave soul nervous.
According to a lawsuit filed against Takata and Honda, that is exactly what happened to the family of a Texas teenager driving a 2001 Honda Accord.
The family of Courtnie Giddens claim in the lawsuit they received a recall notice to have the Takata airbag replaced in their 2001 Honda Accord, so they took a trip to the dealer to get the repairs done. Once at the dealership they were told the necessary part wasn't in stock and the car could be fixed once the part was in.
According to the lawsuit, the dealer said the family shouldn't worry because incidents of airbag ruptures were low and had affected only a small number of vehicles.
The complaint says Courtnie's father stated he had a problem with the dealership making the teen drive the Accord, but the dealership manager assured him she would be safe as long as she wore her seat belt, and said it was unlikely her car was affected anyway.
That same night Courtnie was involved in a crash when two vehicles collided in front of her and she rear-ended the car in front of her, causing the Takata airbag inflator to rupture and send shards of metal into the teen's face and chest.
Courtnie later said she thought a bomb went off when she was thrown against her seat and looked down and saw blood everywhere.
Giddens reportedly had surgery on her nose and will likely require more skin grafts, while the wound to her chest has left her with a physical scar.
The lawsuit says the dealership should have never told the family to drive the car and at the least should have offered a loaner vehicle until the 2001 Accord was repaired.
Honda has been hit hardest by Takata's airbag failures and Honda vehicles have been involved in almost all the fatalities caused by the airbags. However, millions of consumers driving cars from at least 14 automakers have been left with tough choices concerning driving their cars.
For people with just one car to drive, it's not easy to make the decision to park the vehicle while waiting for replacement airbag parts, and for some people parking their car isn't an option.
The South Carolina owner of a Chrysler Crossfire wrote to CarComplaints.com and said he, like millions of other owners, had the undesirable choice of driving a dangerous car or parking it. At the time the Crossfire owner wrote, he said his car had been parked for three months, making it useless to him.
"NHTSA has directed this airbag be replaced with another since this Takata fiasco has surfaced. All the calls to Chrysler (recall specific phone number and FCA Chrysler CSU), has been met with either no answer, diversion to something else, or outright misinformation. Since I got the official recall from Chrysler (11 April 2016) I have parked my car because this drivers side airbag has been declared defective by the NHTSA. FCA Chrysler says parts are not available." - 2008 Chrysler Crossfire Owner / Wedgefield, South Carolina
The Takata/Honda Accord lawsuit was filed in the 141st District Court - Tarrant County, Texas.