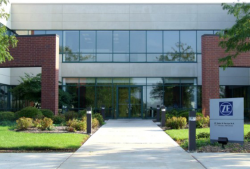 — ZF North America is recalling 505,000 transmission sensors that were included in transmissions sold to multiple automakers, according to documents filed with the National Highway Traffic Safety Administration.
ZF has been in the news a lately after the death of actor Anton Yelchin when it was revealed the electronic gear shifter that is the focus of the lawsuit was manufactured by ZF North America. Yelchin was killed after his Jeep Grand Cherokee rolled away and crushed him against a fence and concrete mailbox.
Those gear shifters have caused nearly 700 complaints and reports of 68 injuries and 266 crashes, in addition to a recall of 1.1 million Chrysler vehicles.
The parts maker says the recall will affect vehicles equipped with a transmission called 9HP48 or 948TE, with Fiat Chrysler the first automaker to come forward and say some of its vehicles have the transmissions.
ZF didn't say which additional auto manufacturers are involved in the recall, but all the vehicles have 9-speed transmissions that can slip into neutral at any time without warning.
The problem is caused by a terminal crimping issue with 26-way connectors on the sensor cluster harness assemblies. The company says the star-shaped connector was not properly crimped and the problem wasn't caught at the factory because of a manual setting used for measurements.
The parts maker didn't say if the defect has caused any injuries or crashes, but it's never good news for a vehicle to shift into neutral while traveling at any speed.
ZF says affected automakers that use the transmissions will separately contact consumers about the recall. The company says a software update should prevent the transmission from shifting into neutral, or at the least a driver will have a warning before the problem occurs.