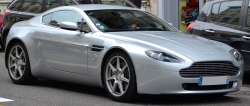 — Aston Martin is recalling 315 model year 2011-2012 V8 Vantage cars to fix transmissions that shift into neutral for no necessary reason.
In 2012, the automaker updated the transmission software and engine control software, but the stored settings for the automatic clutch were not deleted and "re-taught." These stored settings are not compatible with the updated software.
For the system to work correctly, the automatic clutch must be "taught" the correct adjustment settings by a technician and if not, the clutch will be out of specification.
Aston Martin also says the clutch can slip and overheat and cause the transmission to go into "clutch protection" mode to protect the clutch from damage. Drivers will see a warning light and shifting gears will be rough until the temperature of the clutch decreases, then normal gear change will return.
The recall is expected to begin July 7, 2017. Aston Martin dealers will reinstall the clutch system software, but with questions owners may contact Aston Martin at 866-278-6661.
Aston Martin's number for this recall is RA-07-0022.