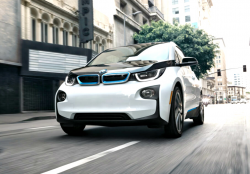 — BMW is recalling more than 20,000 vehicles in two recalls to fix stalling engines and to prevent fires caused by gas vapors.
BMW i3 REx Recall
About 19,130 model year 2014-2017 i3 REx vehicles have serious problems that could cause gas odors and fires. The REx in the name stands for "range extender," an option for the electric i3 that extends the range of the vehicle by using a gasoline-powered engine to power the electric motor once the battery level drops to a certain point.
In November 2016, BMW was told about a dealership outside the U.S. that noticed a spot on the fuel tank line that shouldn't have been there. The problem was apparently caused by a section of the fuel tank vent line routed near the ribbed wire protecting sleeve of the B+ cable in the engine compartment.
The engine compartment is closed, and gas vapors could leak from the vent line and build up inside the compartment.
Engineers needed to determine if this was an isolated incident or if more cases existed, and additional information did show more incidents involving the vent lines.
Engineers reviewed field reports about the problem, tried to replicate the problem and looked at the location of the vent line next to the B+ cable. At this time BMW had seen enough and decided to order a recall.
Although the defect involves leaking gas fumes and the real danger of fire, the automaker says it has received no reports of accidents or injuries related to the vent lines.
The BMW i3 REx recall will begin April 3, 2017. BMW dealers will inspect the fuel tank vent lines and replace the lines if needed. In addition, clips will be attached between the vent lines and the B+ cables to prevent contact.
Owners may contact BMW at 800-525-7417.
BMW X1 sDrive28i, X1 xDrive28i and X1 xDrive35i Recall
BMW says more than 1,100 vehicles have positive (B+) battery cables with high resistance in the connections to the fuse boxes.
Recalled are the 2014 BMW X1 sDrive28i, X1 xDrive28i and X1 xDrive35i vehicles that can stall because of electrical problems in the cables. In addition to stalling engines, a customer won't be able to restart the vehicle once it stalls.
The recall should begin April 3, 2017, when dealers will replace the B+ cable connectors with connectors that are silver coated, then make sure the connectors are securely attached to the fuse boxes.
If you own one of the affected BMW vehicles and have questions, please call 800-525-7417.