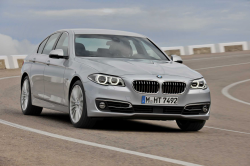 — BMW is recalling nearly 14,000 to fix problems with the rear reflectors that may not reflect enough light.
Recalled are the 2013-2014 BMW 528i, 528i xDrive, 535i, 535i xDrive, 550i, 550i xDrive and M5, 2013 BMW ActiveHybrid 5 and 2014 BMW 525d xDrive.
The reflector problem goes back to 2014 when Korean authorities tested parts purchased from a BMW dealer. Testing showed possible non-compliance issues with the reflectors because they didn't meet specifications.
Additional testing was conducted in 2014 in front of BMW employees and indicated the same results.
South Korea requested BMW Korea to conduct a recall because of the reflectors, and in March 2015 the automaker announced the Korean recall.
On April 17, 2015, BMW filed a petition with the U.S. government for an exemption for the reflector problems by arguing the matter was "inconsequential" to safety. NHTSA reviewed the petition and denied BMW's request in May, causing BMW to order the recall.
The automaker says no crashes or injuries have been caused by the reflectors.
The recall should begin July 24, 2017, when BMW dealers will replace the rear reflex reflectors.
Owners of the recalled vehicles may contact BMW at 800-525-7417.