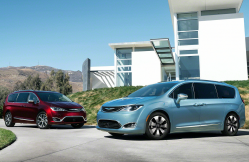 — Chrysler is recalling 100 Pacifica Plug-in Hybrid minivans because the seating and weight labels are wrong.
The recall of the 2017 model year minivans comes shortly after the automaker recalled the same minivans for problems that cause a loss of propulsion.
The 100 recalled minivans have tire labels that incorrectly say the minivans seat six occupants rather than the correct seven occupant capacity.
In addition, the current labels say the combined weight limit should be 950 lbs rather than the accurate weight of 1,100 lbs.
This makes the Pacifica minivans in violation of federal safety standards, something dealers will correct when they replace the tire placard labels starting July 28, 2017.
Affected Pacifica owners may call Chrysler at 800-853-1403 and if needed, refer to recall number T37.
Read what owners tell CarComplaints.com about Chrysler Pacifica and Chrysler Pacifica Hybrid minivans.