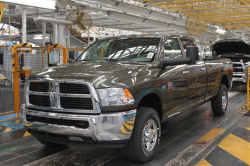 — A Dodge Ram tie-rod class-action lawsuit will be settled after Chrysler agreed to the settlement terms that allege Ram trucks were built with tie rods that can break and cause crashes and injuries.
However, Ram truck owners across the country shouldn't cheer because the settlement includes California owners only, about 7,100 to be exact.
The $3.1 million lawsuit includes Dodge Ram 2500, 3500, 4500 and 5500 built between July 1, 2009 and November 6, 2013. Owners of the Ram 2500 and 3500 will be eligible to receive $195 and owners of the Ram 4500 and 5500 will receive $250.
The Ram tie-rod lawsuit, filed by Shaun Sater, alleges the left tie-rod ball stud can fracture and cause a loss of steering, or what some Ram owners call the "death wobble." It's something Chrysler is well aware of because more than 1 million trucks were recalled in 2013 to fix tie rods that could break and cause a complete loss of steering control.
At that time, the automaker said it knew of six crashes and two injuries caused when the tie rods broke. However, Chrysler said the wait for parts for some of the Ram trucks could take a year, something that caused Sater to file the tie-rod lawsuit.
The plaintiff says he tried to schedule appointments after receiving the 2013 recall notice but Chrysler didn't have the required parts, causing his truck to suffer a failure of the left tie-rod ball stud in March 2014.
Sater says the problem was so serious it caused the tires to turn in the opposite direction, and on top of that, he had to allegedly pay $1,000 for repairs that should have already been performed for free under the recall.
The Ram trucks were allegedly redesigned starting with the 2013 models, but the plaintiffs say many people who had recall repairs continued to complain about busted tie rods.
Chrysler tried to get the tie-rod lawsuit dismissed because the recall was ordered and because many of the Ram trucks had problems that occurred beyond the warranty periods. In addition, the automaker argued people who owned their trucks more than four years shouldn't have been included in the lawsuit because of the statute of limitations.
The judge, however, wasn't persuaded and allowed the class-action to proceed.
The Dodge Ram tie-rod lawsuit was filed in the the U.S. District Court for the Central District of California - Shaun Sater, et al. v. Chrysler Group LLC (FCA US LLC).
The plaintiffs are represented by Law Offices of Robert G. Loewy PC, Robbins Geller Rudman & Dowd LLP, Premier Legal Center APC, Girard Gibbs LLP, and Greg Coleman Law PC.
CarComplaints.com has complaints about the Dodge Ram 2500, 3500, 4500 and 5500.