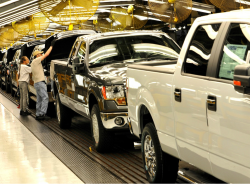 — Ford transmissions that suddenly downshift are under investigation in nearly 1.4 million 2011-2013 Ford F-150, Ford Expedition and Lincoln Navigator vehicles.
The National Highway Traffic Safety Administration (NHTSA) says the transmissions can unexpectedly downshift to 1st gear without warning, something that has caused at least two crashes.
Ford recalled some of the vehicles in 2016 for the same downshifting problems allegedly caused by output speed sensors. However, NHTSA says 123 complaints have been filed by F-150, Expedition and Navigator owners since the 2016 recall.
Many owners say they have experienced the sudden downshifting of the transmissions, but their vehicles weren't included in the 2016 recall. Other owners complain they had the recall repairs performed but the transmission problems continued.
Two of those 123 complaints came from 2012 Ford F-150 owners, one who said his truck wasn't included in the previous recall.
"While driving approximately 50mph there is an apparent loss of signal to the speedometer followed by a sudden down shift from 6th to 2nd causing the truck to nearly come to a halt. Happens very randomly and intermittently. Almost caused an accident a couple of times. On one occasion the truck was in drive, I was pressing the accelerator and the truck would not go any where. Put it in park and turned it off and back on and then it was fine."
"I was driving close to 50 mph on a street and the truck suddenly downshifted to first gear without warning. The rear wheels locked up and went into a skid. The engine revved to the redline. After several seconds the transmission shifted back up into a higher gear and resumed normal operation. It was a spontaneous problem and has not been able to be reproduced. These symptoms are consistent with a recall issued by Ford for the 2011-2012 F150's with the 6R80 transmissions, but my VIN was not included in the recall."
In the 2016 recall, Ford warned owners the 6R80 transmissions could downshift so suddenly the rear tires could lock up at any speed, causing a dangerous situation to everyone and everything on the road.
The government didn't say more about the investigation, but CarComplaints.com will update our website with results of the 2011-2013 Ford F-150, Ford Expedition and Lincoln Navigator investigation.