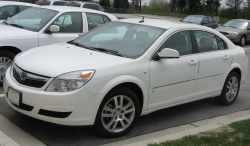 — General Motors and seat manufacturer Faurecia have been sued by Kansas parents who allege the front seats in a 2007 Saturn Aura were defective when the seats collapsed during a crash, injuring one child and killing another.
The wrongful death lawsuit, which identifies the children by the initials A.P. and H.M., alleges the front seats were too weak to handle the 2015 rear-end crash.
According to the lawsuit, on November 7, 2015, plaintiff Heather Tracy was driving a 2007 Saturn Aura XE in Olathe, Kansas, when a 2014 Kia Optima driven by Boyd Chism struck the rear of the Saturn Aura. Plaintiff Ryan Poole was sitting in the right front passenger's seat with 17-month-old A.P. restrained in a car seat directly behind Mr. Poole.
When the Saturn Aura was struck in the rear, the front passenger seat failed and allegedly collapsed rearward into the child. A.P. was transferred to Children's Mercy Hospital in Kansas City, Missouri, where she passed away hours later from her injuries.
In addition, the driver's side front seat allegedly collapsed "and/or twisting rearward" into nine-year-old H.M., leaving him with permanent severe injuries.
The lawsuit alleges General Motors manufactured the Saturn Aura with defects that cause the seats to collapse backward in a crash. The plaintiffs say the front seats and components were not strong enough to remain upright in a crash, something GM should have known about long ago.
The lawsuit also alleges the front seats were designed to fail and collapse in a rear-end crash, yet GM didn't warn people about the dangers. In addition, GM should have allegedly warned Saturn owners that children should not be seated behind the front seats when certain occupants are in the front seats.
The collapsing seat lawsuit was filed in the U.S. District Court for the District of Kansas at Kansas City - Heather Tracy and Ryan Poole, v. Faurecia Automotive Seating, LLC and General Motors, LLC.
The plaintiffs are represented by Kuhlman & Lucas, LLC.
This lawsuit isn't the first against an automaker concerning the design of front seats that collapse into children sitting in the rear seats. In 2016, a jury awarded $124.5 million to the family of an 11-year-old boy who was seriously injured in a rear-end crash of a 2005 Audi A4 Quattro.
The family claimed the front seatback was defective and collapsed into the rear seat where the boy was sitting. However, Audi argued the front seats were meant to collapse in certain rear impact crashes to absorb crash force energy for the front seat occupant.
Also in 2016, Senators Ed Markey and Richard Blumenthal sent letters to 17 automakers requesting detailed information about potential problems caused by front seatbacks that collapse in rear-end crashes.