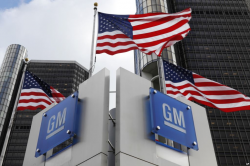 — General Motors is in more trouble concerning alleged bankruptcy claims as a judge ruled GM owners can file non-ignition switch claims even though GM believed it was immune to those claims.
The story goes back to a bankruptcy court that issued a "sale order" in June 2009 which said GM wasn't liable for certain claims based conduct of the automaker prior to the 2009 bankruptcy. That all changed after the automaker dug a hole by admitting it concealed deadly defects in ignition switches in millions of cars.
After the filing of hundreds of lawsuits based on ignition switch defects, a federal judge ruled in April 2015 the law was on the side of Old GM based on the bankruptcy agreement.
However, the judge also said many people at Old GM knew about the ignition switch defects but chose to conceal the problems from the public and government authorities. Furthermore, the judge said GM should have recalled the cars prior to 2009.
Attorneys for the plaintiffs took their case to the U.S. Second Circuit Court of Appeals and in July 2016, the court ruled General Motors had to face certain claims related to ignition switch claims before GM's 2009 bankruptcy. That ruling has the potential to affect millions of GM owners who were knocked down by the April 2015 ruling.
However, none of the previous rulings addressed claims based on non-ignition switch issues, something that has now concluded that will allow plaintiffs to challenge GM's actions. GM could face economic loss claims from owners, whether as independent claims or part of class-action lawsuits.
The ruling clears the way for a district court to look at non-ignition switch claims, including claims involving alleged problems with power steering and airbag systems.
Hagens Berman, co-lead counsel representing owners of GM vehicles, says the newest ruling "means that millions of claims involving other ignition switch defects, power steering defects and defects in side impact airbag systems can be heard in the district court, unencumbered by the 2009 sale order."
GM has paid out $2 billion for concealing its deadly ignition switches, including writing a check for $575 million to settle 1,385 death and injury claims and a shareholder suit, and another $595 million to resolve claims for 124 deaths and 275 injuries.
The automaker also got nailed with a $900 million penalty to settle a government criminal probe.