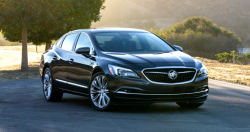 — General Motors is recalling more than 2,000 model year 2017 Buick LaCrosse cars that could lose power steering while driving.
GM says the electrical connectors for the electronic power steering can become corroded by water, a problem caused by improper sealing.
General Motors discovered the problem in October 2016 when employees were checking wire harnesses on two Buick LaCrosse cars and noticed the connectors were not seated properly in the electronic power steering systems.
An investigation was opened in December and engineers determined the wiring supplier provided terminal cables with poorly crimped seals because the person responsible for inspecting the seals wasn't trained properly. Because of the improperly crimped seals, the cable wasn't installed correctly into the electronic power steering connector.
Engineers learned that without using a special tool to install and seat the cable, the cable could fail to fit fully into its intended hole or become dislodged. If the seal is not properly seated on a connector, water could enter and corrode the connectors or create a high resistance capable of melting the connectors.
If a driver loses power steering, the car will revert to manual steering that requires a lot more effort from a driver. This can be dangerous in certain driving conditions, especially when traveling at slow speeds or while going around a curve.
A driver should hear a chime and see a warning light once the power steering is lost.
GM doesn't know when the 2017 Buick LaCrosse power steering recall will begin. Buick dealers will use a special tool to make sure the seals are correct and then use a tie wrap and electrical tape to secure the connector seals in place.
Owners of the 2017 Buick LaCrosse who have questions should call 800-521-7300 and ask about recall number 17085.
Read what owners have told CarComplaints.com about their Buick LaCrosse cars.