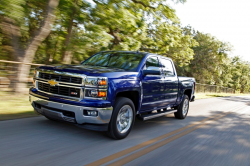 — General Motors has truck problems, enough so to cause the automaker to recall more than 690,000 model year 2014 Chevrolet Silverado 1500 and GMC Sierra 1500 trucks in the U.S.
In addition to the 690,000 recalled trucks in the U.S., another 80,000 Silverado 1500 and Sierra 1500 trucks will be repaired in Canada and about 25,000 trucks are recalled in other areas.
The trucks can lose their electric power steering for very short amounts of time, then start working again, then keep repeating the pattern.
GM opened an internal investigation in February 2017 after customer complaints about the loss of power steering. The automaker studied the complaints, dealer input, legal claims and warranty claims and saw a pattern that pointed to electrical problems.
Engineers found the trucks experienced a temporary loss of electric power steering (EPS) assist followed by a sudden return of EPS assist, especially during low-speed turns.
GM also determined the loss and sudden return of EPS assist typically happened within a 1-second period and was caused by electrical and software problems.
Making a low-speed turn causes more of a demand for higher electrical current which can cause temporary low-voltage conditions. GM engineers found that when the system voltage droped below 8.8 volts for more than 1-second, the power steering was disabled until the voltage returned to 9 volts for a minimum of 40 milliseconds, which brought the power steering back to normal.
Drivers of the 2014 Chevrolet Silverado 1500 and GMC Sierra 1500 trucks will suddenly feel the steering revert to manual steering and see a warning message about losing power steering. But GM says other electrical problems can occur when the power steering assist is lost or just before.
Those problems include numerous functions being disabled, including the air conditioning, cruise control, radio, stabilitrack system, door locks and chimes.
General Motors doesn't know when the recall will begin, but the automaker says it knows dealers will need to update the electric power steering module software.
If you have questions about your 2014 Chevrolet Silverado 1500 or GMC Sierra 1500, call Chevrolet at 800-222-1020 or GMC at 800-432-8782. GM's number for this recall is 17276.
CarComplaints.com has owner-reported complaints about the 2014 Chevrolet Silverado 1500 and the 2014 GMC Sierra 1500.