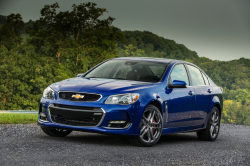 — General Motors is recalling more than 6,200 model year 2014-2016 Chevrolet SS cars that can lose power steering while driving due to steering gears.
GM says manual steering will still function, but owners who have lost power steering while driving will tell you it's no picnic, especially when it happens while driving at slow speeds or around curves.
GM says an employee reported an increase in warranty claims related to the steering gears on Chevy SS cars. The automaker looked back and realized 6,200 model year 2014-2016 Chevy Caprice Police cars were recalled in March 2016 after reports of power steering problems related to steering gears.
However, GM believed the Caprice steering gear problem was different than the SS because the 2016 recall was for a loss of power steering related to police vehicles idling constantly, a situation unique to police cars.
Further investigation showed there had been two design changes to reduce corrosion in the cars by adding Nyogel lubricant and using gold-plated terminals.
Between March and July 2016, epoxy was applied to the connectors, but GM determined the epoxy increased the corrosion and loss of power steering. Corrosion on the connector between the power steering module and the torque sensor results in interference with the function of the torque sensor circuit.
A driver should see a warning light and hear a chime if power steering is lost.
General Motors doesn't know when the Chevy SS recall will begin. Dealers will replace any affected steering gear assemblies in the SS cars.
Owners with questions should call GM at 800-222-1020 and ask about recall number 17248.
CarComplaints.com has complaints about Chevrolet SS cars.