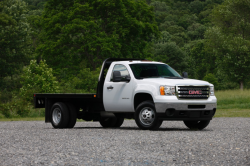 — General Motors is recalling about 35,300 model year 2011-2015 Chevrolet Silverado 3500 and GMC Sierra 3500 trucks equipped with dual fuel tanks.
The only trucks affected are Silverado 3500 and Sierra 3500 chassis cab trucks without a bed and intended for modifications and commercial use.
The trucks have front gas tank fuel sensors used to indicate when fuel levels are low, sensors that can get stuck and cause the rear tanks to overfill from the front tanks. The overfilled front tanks can expand due to added pressure and make contact with the driveshafts, creating holes in the tanks just perfect for gas leaks that could start a fire.
In April 2017, GM learned of a document from the National Highway Traffic Safety Administration (NHTSA) that had been received from a Silverado 3500 owner concerning a gas leak.
The automaker opened an internal investigation and analyzed data from the field with engineers looking at how the overpressurized front tank can cause gas to leak. GM and NHTSA could find no evidence the fuel leaks were occurring on trucks built after model year 2015.
A driver may notice a grinding or knocking noise if the overpressurized front gas tank expands and hit the driveshaft.
Chevy and GMC dealers will replace the fuel pumps for the rear tanks, or in some cases update the fuel sensor software. General Motors says the replacement fuel pump modules have lower pressure limits and flow rates than the recalled pumps.
Dealers will also possibly replace the front gas tanks if dealers find problems with those tanks. However, General Motors doesn't know when any of this will occur.
The automaker says interim recall notices will start being mailed on December 18, 2017, but the recall may not begin until February 2018. Owners will receive second notices once dealers have all the necessary parts.
Chevrolet Silverado 3500 owners may call 800-222-1020 and GMC Sierra 3500 owners with questions should call 800-462-8782. GM's reference number of the fuel sensor recall is 17399.
CarComplaints.com has owner-reported complaints about the Chevy Silverado 3500 and GMC Sierra 3500.