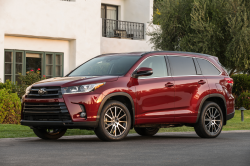 — Gulf States Toyota (GST) is recalling more than 1,120 model year 2017 Toyota Highlander and Highlander Hybrid SUVs equipped with accessory roof rail cross bars.
Gulf States Toyota Distributors is the second largest franchised Toyota distributor with 154 dealers. The company handles its own recalls which its dealerships are responsible for rectifying.
GST says the roof rails can loosen and fly off the SUVs because the fasteners may not be tight enough.
GST found during a product quality audit that fasteners on Toyota roof rail cross bars installed on Highlander SUVs were improperly torqued because of incorrect installation instructions.
The company says the torque values were either wrong or completely missing, which left the roof rails unsecured and a potential road hazard. However, GST doesn't know of any crashes or injuries caused by the rails.
Gulf States Toyota says the recall should begin September 25, 2017. GST dealers will make sure the fasteners are tight enough to keep the roof rails in place.
Owners of recalled 2017 Toyota Highlander and Highlander Hybrid SUVs may contact GST at 800-444-1074 and refer to recall number 17R3.
CarComplaints.com has owner-reported complaints about Toyota Highlander and Toyota Highlander Hybrid SUVs.