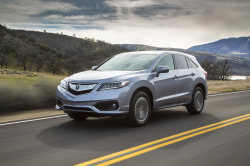 — Honda is recalling more than 1,400 vehicles because of the dreaded label problems that cause more recalls than anyone wants to admit. However, most label recalls involve incorrect text printed on the labels, not text that disappears for eternity.
Honda says 1,425 model year 2017 Honda CR-V and Acura RDX SUVs in the U.S. are recalled to replace the certification labels attached to the driver-side doorjambs.
Honda says the labels on the CR-V and RDX vehicles were created with the wrong ink, ink that can wash off with common cleaning chemicals. The labels have important information printed on them, including tire size, weight ratings and other required information to certify the vehicles for sale.
The text on the labels is correct, but it won't mean much if the text disappears.
Honda didn't say more about the Honda CR-V and Acura RDX recall other than owners should watch for mailed notices in June 2017. Affected owners who have questions should call 888-234-2138.
CarComplaints.com will update this page when the National Highway Traffic Safety Administration releases details about the 2017 Honda CR-V and Acura RDX recall.
Read complaints about Acura RDX and Honda CR-V SUVs.