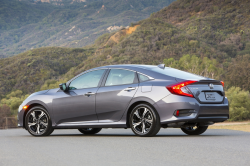 — Honda is recalling more than 5,400 model year 2017 Civics with right driveshafts that can break and leave the cars without propulsion.
The Civics are equipped with 1.5-liter engines and automatic continuously variable transmissions with driveshafts that can break and leave the cars without motive power. In addition, not using the parking brake when the car is parked can allow the car to roll away.
Honda says the problem was discovered in September during a routine check of a 2017 Civic when the test car stopped moving when the right driveshaft broke.
An investigation was opened and engineers looked at how the parts were made at the supplier and found problems with the machine used for the driveshafts. It was determined a machine used to cool the driveshaft during heat treatment was defective and caused the driveshafts to be too weak to handle the loads.
Other than the driveshaft that broke during testing, the automaker doesn't know of any warranty claims, complaints, crashes or injuries related to the problem.
Honda will start contacting owners of the recalled 2017 Honda Civics December 15, 2017. Dealers will inspect the serial number on the right driveshaft and based on the number, the driveshaft may be replaced and the front wheels aligned.
Concerned customers may call Honda customer service at 888-234-2138 and refer to recall number K0E.
Read complaints submitted to CarComplaints.com about the 2017 Honda Civic and other model years of Civics.