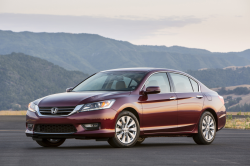 — Honda is recalling 1.15 million Accords in the U.S. over a risk of fires from electrical shorts, something that has already caused four engine compartment fires. In addition, Honda says about a million more Accords are recalled outside the U.S.
Recalled are 2013-2016 Honda Accords with battery sensors that can allow water to enter and cause electrical shorts. This is what caused the four known fires, all from the "salt belt" states where corrosion is common.
Honda says the 12-volt battery sensor is located on the negative battery cable within the engine compartment and used to monitor the charge of the battery. The sensors will alert drivers when there are problems with the batteries or charging systems, but the affected sensors may not be sealed good enough to protect against moisture.
Water mixed with road salt or any other electrically conductive substances can enter the battery sensors and corrode the parts.
Honda doesn't have the necessary parts to complete the recall repairs, so Accord owners will receive two notices. The first notices are being mailed July 31, 2017, describing an interim fix where dealers, if needed, will apply adhesive to the battery cases to prevent water from entering.
Accord owners will receive second notices when dealers are ready to replace the sensors, but Honda doesn't know when that will begin.
If you own a 2013-2016 Honda Accord and have questions, please call Honda at 888-234-2138 and ask about recall number KG0.