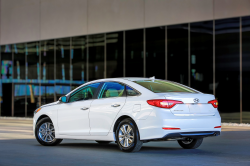 — The National Highway Traffic Safety Administration (NHTSA) has closed an investigation into alleged brake problems in 2016 Hyundai Sonata cars without finding evidence of a safety defect that can cause the rear brakes to lock.
NHTSA opened the Sonata investigation in September 2016 after receiving reports of rear brakes grabbing or locking without the drivers touching the brake pedals.
One owner reported a fire occurred on the passenger-side rear brakes after the brakes had locked.
"Rear brakes failed to properly function while the vehicle was in forward motion on a highway. Both rear brakes locked up without operator pressing on brake petal. Both rear brakes and wheel got red hot causing passenger side rear brakes caught on fire. No brake warning lights was activate. This event took place twice, once on 1/27/16 (18 days after purchase) and 2nd time 3/7/16. (30 days after it was allegedly repaired.)" - 2016 Hyundai Sonata owner / Middleburg, Florida
Safety regulators knew that Hyundai had issued a technical service bulletin to dealers in May 2016 about problems with the electronic parking brake systems and NHTSA wanted to know if the proposed repairs did indeed fix the cars.
The Sonatas are equipped with optional electronic parking brakes that use an electric motor to apply the parking brake by moving the rear brake pads against the brake rotors.
To release the parking brake, the control switch must be used or a driver must disengage the brake by shifting the transmission into gear when the ignition is on.
Hyundai says if the electronic parking brake has not been using during 621 miles of driving, the system will perform an automatic adjustment of the brake pads to check for proper clearance. The check will activate when the Sonata is turned off and with the transmission in PARK, but the parking brake won't be set and the brake indicator light won't be illuminated.
The automaker finally discovered an error in the electronic parking brake control logic that can cause the pads to touch the rotors after the automatic adjustment action.
Hyundai says this is what was causing the rear brakes to lock or drag, possibly creating heat and smoke.
The problem doesn't affect Sonata cars built after March 17, 2016, because Hyundai started updating the electronic parking brake control logic systems.
NHTSA says the sole report of a brake pad fire couldn't be confirmed because there were no repairs to the car other than replacement of the rear brake rotors and pads. In addition, the remaining reports didn't indicate any accidents or injuries related to the locking brakes.
Safety regulators decided to close the investigation based on Hyundai issuing the service bulletin and due to the alleged minimum effect that brake drag has on safety.
Read owner-reported complaints about the 2016 Hyundai Sonata and other model years of Hyundai Sonata cars.