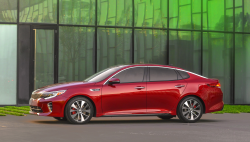 — Kia is recalling one (1) model year 2016 Kia Optima to fix the end seal for the driver-side frontal airbag inflator that may not have been installed correctly.
The problem won't cause the airbag to explode, but instead the airbag won't inflate properly.
A Kia owner shouldn't be jumping up to look at their Optima because the one recalled vehicle is in the inventory of a Kia dealer.
CarComplaints.com has complaints about the Kia Optima.